PeriView FLEX TBNA Needle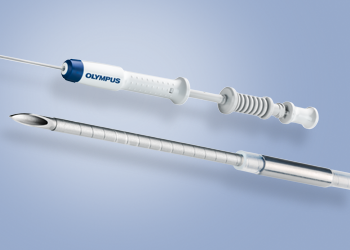 Dispositivos Endoscopicos
PeriView FLEX TBNA Needle
The PeriView FLEX TBNA needle brings new capabilities to peripheral bronchscopy with enhanced flexibility and versatility to improve access. Compatible with the full line of Olympus guide sheaths and bronchoscopes with an instrument channel 1.7 mm and above, the PeriView FLEX offers sampling options never before available in the peripheral airways. 
---
Beneficios clave
Improved Access
The unique design of PeriView FLEX, coupled with the Olympus guide sheath and slim BF-P190 bronchoscope, allows greater access to further generations of the lung thus enabling sampling of peripheral lesions that may have been previously difficult to reach by other sampling techniques.
Greater Flexibility
The innovative Olympus FLEX needle tip features spiral laser cuts on the needle surface. This unique design delivers greater flexibility without sacrificing the ability to puncture tissue, even when the bronchoscope is fully articulated.
Versatile Stylet
The nitinol stylet can be used during initial puncture to provide enhanced column strength or withdrawn for variable stiffness and greater flexibility.
Asistencia de productos