Alligator Jaw-Step (FB-211D.A)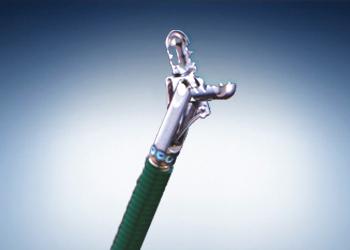 Pinzas
Biopsy Forceps
Alligator Jaw-Step (FB-211D.A)
The single-use Alligator Jaw-Step (FB-211D.A) biopsy forceps has a 5.0 mm cup opening and a 115 cm working length; it is suitable for 2.0 mm scope channels.
---
Beneficios clave
Proprietary sheath design: The sheath's exterior reduces surface friction, enabling smooth insertion through the endoscope channel. Its flexible design allows for easier passage through an angled endoscope without using excessive force.
Stainless steel construction: Forceps are constructed of stainless steel, the material of choice for precision medical devices.
Broad array of specialty forceps: Olympus offers a wide range of single-use and reusable biopsy forceps, designed to meet procedural needs across multiple specialties. For more information about Olympus biopsy forceps or other endoscopic devices, please contact customer service for assistance.
Asistencia de productos
Capacitación y uso correcto de Olympus
Olympus ofrece una variedad de oportunidades educativas para profesionales de atención médica y quirúrgica.  
Capacitación dictada por colegas
Nuestro Programa de formación profesional ofrece muchos tipos de capacitación dictados por colegas para satisfacer las necesidades educativas específicas de médicos y enfermeros con un enfoque en el uso seguro y efectivo de los productos Olympus.
Universidad Olympus
El servicio de formación profesional de Olympus también ofrece programas de capacitación a través de la universidad Olympus (OU). Diseñados para enfermeros, técnicos de reprocesamiento y empresas biomédicas, muchos de los cursos de la universidad Olympus (OU) están disponibles para obtener créditos de educación continua por horas presenciales en el servicio de enfermería.
Visitar la universidad Olympus