Double Layer Biliary Stent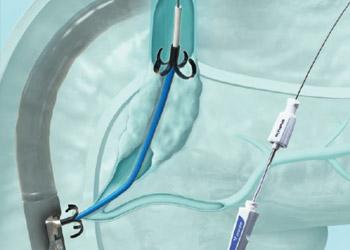 Sistema de Colocacion de Stent
Double Layer Biliary Stent
Single-Use Olympus Double Layer Biliary Stents feature a unique construction, with a different material in each layer. The inner layer has a water repellent property that minimizes bile adhesion. The more rigid material of the outer surface provides the stiffness necessary to facilitate smooth insertion. The double layer design eliminates flap and side holes to prevent bile accumulation in the stent lumen. Four flaps at both the distal and duodenal ends ensure secure placement in the bile duct and help to confirm position during stent placement. The stents are available in both proximal bend and center bend designs in a wide variety of lengths.
---
Beneficios clave
Unique double-layer construction: The stent's unique design features an inner surface five times smoother than conventional plastic stents.
Optimal stiffness: The stent's optimal stiffness and elasticity to ensure easy passage through a stricture
Secure placement: Four flaps at both the distal and proximal ends ensure secure placement.
Asistencia de productos
Minimal Channel Size: 4.2 mm
Length: 4, 5, 6, 7, 8, 9, 10, 11, 12, 13, 14, 15 cm
Size: 10 Fr.
Package: 1 per box, sterile
Use: Single use
Capacitación y uso correcto de Olympus
Olympus ofrece una variedad de oportunidades educativas para profesionales de atención médica y quirúrgica.  
Capacitación dictada por colegas
Nuestro Programa de formación profesional ofrece muchos tipos de capacitación dictados por colegas para satisfacer las necesidades educativas específicas de médicos y enfermeros con un enfoque en el uso seguro y efectivo de los productos Olympus.
Universidad Olympus
El servicio de formación profesional de Olympus también ofrece programas de capacitación a través de la universidad Olympus (OU). Diseñados para enfermeros, técnicos de reprocesamiento y empresas biomédicas, muchos de los cursos de la universidad Olympus (OU) están disponibles para obtener créditos de educación continua por horas presenciales en el servicio de enfermería.
Visitar la universidad Olympus